Commissioner Ryan Sitton Participates in Town Hall Discussing Fort Bend Oil Well Blowout
February 21, 2018
AUSTIN — Texas Railroad Commissioner Ryan Sitton participated in a town hall hosted yesterday by Sen. Borris Miles and Rep. Ron Reynolds to provide updates and answer questions regarding an oil well blowout that occurred in Fort Bend County on Dec. 6, 2017. While drilling the well, IWR Operating encountered a gas pocket and experienced a blowout, causing a release of 3,300 barrels of crude oil in a 500-foot radius on the drilling pad site. The incident caused a foul odor to be emitted, which led to concerns within the community for health and safety. The Texas Commission on Environmental Quality (TCEQ) also participated in the town hall and provided information and answered questions related to air quality monitoring that agency had done.
The Texas Commission on Environmental Quality extensively tested the area where odors were noted and found no health risks. In addition, Houston Fire Department's HazMat Senior Captain Johnson presented information related to their monitoring and assessment of air quality in the immediate aftermath of the blowout, finding no harmful levels of air toxins present.
In the days following the blowout, 90 percent of the hydrocarbon release was recovered from reserve pits on the drilling location with the additional 10 percent recovered in soil excavation. The well was plugged on Dec. 19, 2017, and all remediation and clean up was reported by the operator as completed on February 9, 2018.
 "I work directly for the 27 million Texans of this state and it's my duty and commitment as Railroad Commissioner to ensure that they feel confident in the way oil and gas companies are operating in their communities," Sitton said.
"Nothing is more important than public and environmental safety, and I'm extremely appreciative of Sen. Miles and Rep. Reynolds bringing together the community to address their concerns and provide the facts. No one likes it when incidents like this occur, but the Railroad Commission is committed to ensuring that remediation is done according to required standards and that drilling operators follow all prescribed rules."

For more questions and more information, please reach out to ryan.sitton@rrc.texas.gov.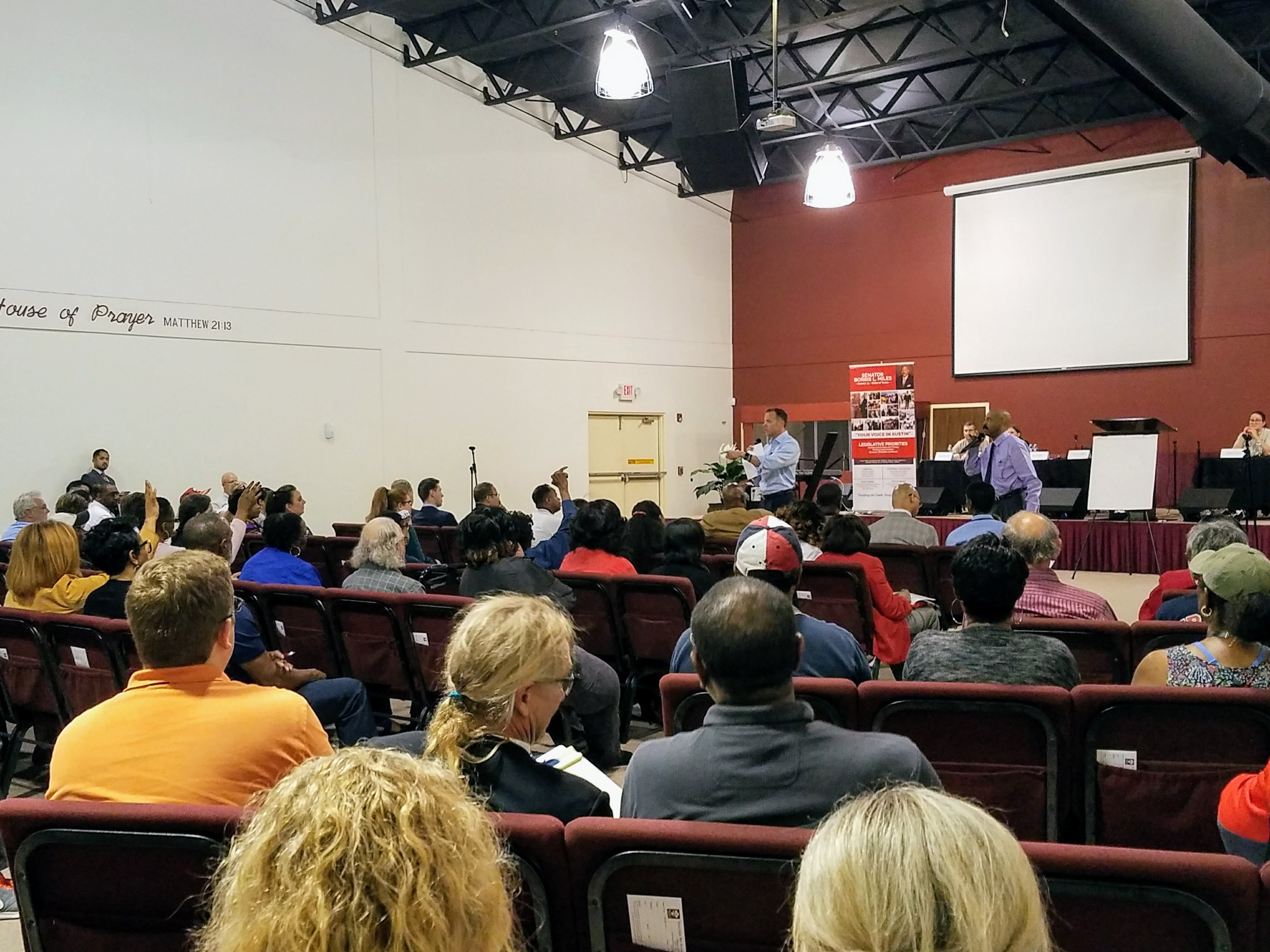 Commissioner Ryan Sitton and Sen. Borris Miles answer questions from the
audience on Feb. 20, 2018 at Together We Stand Church in Missouri City, Texas.


---


Ryan Sitton was elected to the Railroad Commission in 2014 and is the first engineer to serve on the Commission in 50 years. Sitton is one of the world's leading energy experts and founded PinnacleART, an engineering and technology company focused on reliability and integrity programs for the oil, gas, and petrochemical, mining, pharmaceutical, and wastewater industries. As Railroad Commissioner, Sitton uses his technical expertise and business experience to make decisions for the state that are based on sound science and employs a fiscally conservative approach to prioritize the agency's efforts.
---
About the Railroad Commission:
Our mission is to serve Texas by our stewardship of natural resources and the environment, our concern for personal and community safety, and our support of enhanced development and economic vitality for the benefit of Texans. The Commission has a long and proud history of service to both Texas and to the nation, including almost 100 years regulating the oil and gas industry. The Commission also has jurisdiction over alternative fuels safety, natural gas utilities, surface mining and intrastate pipelines. Established in 1891, the Railroad Commission of Texas is the oldest regulatory agency in the state. To learn more, please visit http://www.rrc.texas.gov/about-us/.