RRC's Pipeline Damage Prevention Page Gets Streamlined to Help Texans Avoid Digging Danger
April 14, 2023
AUSTIN- April is Safe Digging Month to remind residents and businesses in our growing state about the importance of calling 811 to prevent dangerous or expensive damage to pipelines and underground utilities when digging.
After calling 811, line locators have 48 hours to arrive and mark any underground utility lines with flags or paint.  Once marked, excavation work can safely begin.
The RRC recently streamlined the agency's Pipeline Damage Prevention web page to make it much easier to find the resources needed to  start any new projects that require digging, and to report any damages to gas pipelines. This page can be beneficial for anyone who is digging in Texas, including homeowners, electricians, landscapers, and plumbers.
As the chart below shows, telecommunications-related work accounted for the largest portion of damages to struck gas lines that were reported to the RRC in 2022.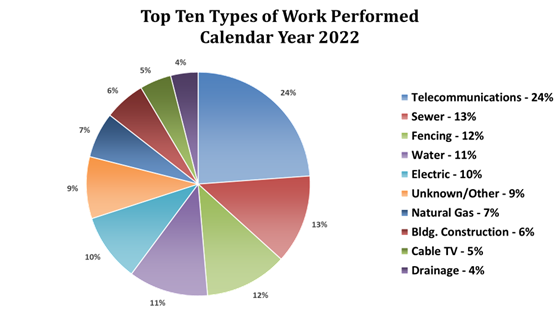 The chart above shows the types of work that resulted in underground pipeline damages.
"When we looked at the number of gas pipeline damages reported from 2020 to 2022, the percentage of incidents from telecom work doubled from 12 to 24 percent," said Karley Bisbano, RRC Manager for Pipeline Damage Prevention. "It may be because of increased telecommunications demand and network expansion around the state. Whatever the project is, we can't overemphasize the importance of calling 811 to confirm it's safe before costly repairs or injuries occur."
State law requires anyone planning to dig deeper than 16 inches in depth, they must call 811 with a minimum of 48 hours prior to beginning a project so that utilities underground can be properly marked.
We recommend calling the number even when digging less than 16 inches as a safety precaution.
Penalties for violating damage prevention rules begin at $1,000 for each offense. If you are not sure whether your project may be in violation of these requirements, it is best to call to have the area assessed before you begin unearthing valuable utility work.
Location requests can also be filed online at the Texas 811 website at https://www.texas811.org/.
---
About the Railroad Commission:
Our mission is to serve Texas by our stewardship of natural resources and the environment, our concern for personal and community safety, and our support of enhanced development and economic vitality for the benefit of Texans. The Commission has a long and proud history of service to both Texas and to the nation, including almost 100 years regulating the oil and gas industry. The Commission also has jurisdiction over alternative fuels safety, natural gas utilities, surface mining and intrastate pipelines. Established in 1891, the Railroad Commission of Texas is the oldest regulatory agency in the state. To learn more, please visit https://www.rrc.texas.gov/about-us/.