Commissioner Craddick Receives Hearst Energy Award for Government Service
November 13, 2015
MIDLAND – Railroad Commissioner Christi Craddick is the 2015 recipient of the Hearst Energy Award for Government Service. Craddick received the honor at the 20th annual Midland Reporter-Telegram Hearst Energy Awards in Midland. The annual ceremony recognizes industry excellence in technology, company performance, government service, lifetime achievement and environmental stewardship. 
"Aside from contributing to more than a third of our state's economy, the oil and gas industry has shaped a way of life in Texas for over a century," Craddick said. "Oil and gas production has kept this state growing, creating jobs for our families and generating surplus revenue for important state budgetary items like health care and education for all Texans. Today, almost every aspect of modern life is impacted by oil and gas. Texas is blessed with an abundance of mineral resources that will provide economic opportunity for our state for many years to come." 
Commissioner Craddick reflected on the substantial impact of the Commission during her time in office on the industry, and on the state of Texas with regard to oil and gas production and regulation as a whole. 
"We have accomplished a number of milestones during my first three years in office that have comprehensively driven the commission forward as a trailblazer in oil and gas regulation," Craddick said. "Major rule amendments have been key, as well as budget and efficiency initiatives, an IT overhaul and a new communications strategy. The commission has often led the regulatory discussion with exemplary rules and regulations as innovation and technology continues to transform industry best practices. The past three years have been no different. Today, we are a fully funded, more efficient and transparent agency participating in an open dialogue with Texans about the state's important mineral resources and the commission's long history of regulatory leadership. These are long-term initiatives, we still have a lot of work to do, and I am looking forward to the next three years." 
Past recipients of the Hearst Energy Award for Government Service include Railroad Commissioners Victor Carrillo and Charles Matthews, Congressmen Lamar Smith and Joe Barton, State Senator Kel Seliger, and State Representatives Tom Craddick and Warren Chisum.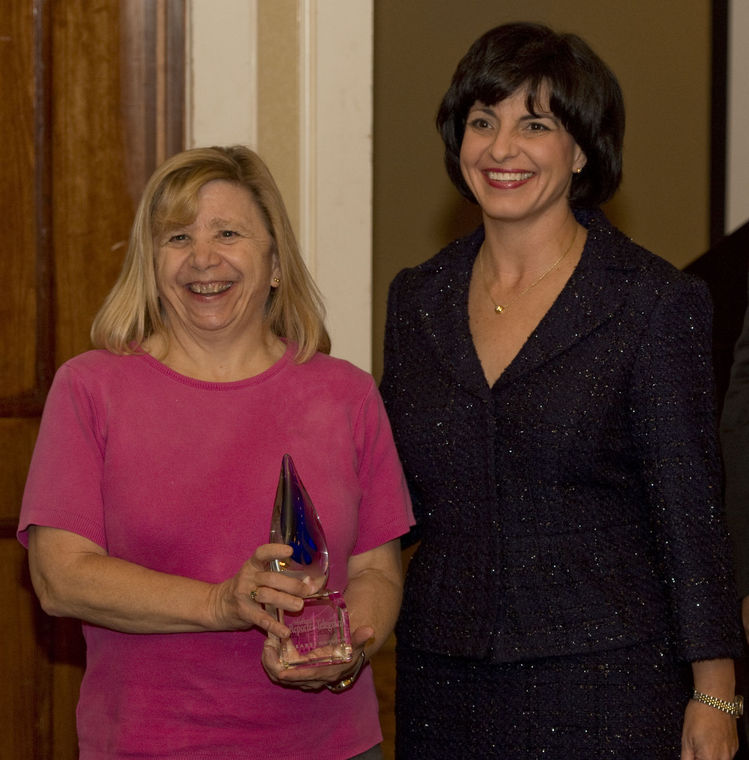 Commissioner Craddick (right) receiving the 2015 Hearst Energy Award for Government Service from Midland Reporter-Telegram energy reporter, Mella McEwen. Photo courtesy of Midland Reporter-Telegram
---
Christi Craddick was elected statewide by the people of Texas in November 2012 to serve a six-year term as Texas Railroad Commissioner. A native of Midland, Christi is an attorney specializing in oil and gas, water, tax issues, electric deregulation and environmental policy.
---
About the Railroad Commission:
Our mission is to serve Texas by our stewardship of natural resources and the environment, our concern for personal and community safety, and our support of enhanced development and economic vitality for the benefit of Texans. The Commission has a long and proud history of service to both Texas and to the nation, including almost 100 years regulating the oil and gas industry. The Commission also has jurisdiction over alternative fuels safety, natural gas utilities, surface mining and intrastate pipelines. Established in 1891, the Railroad Commission of Texas is the oldest regulatory agency in the state. To learn more, please visit http://www.rrc.texas.gov/about-us/.