Railroad Commission Updates Commission Logo To Reflect Modern Agency
October 14, 2019
AUSTIN –The Railroad Commission of Texas (RRC), today unveiled updates to its logo that preserve the legacy of Texas' oldest regulatory agency, while better reflecting its modern duties and responsibilities.  
"The RRC is an historic brand in Texas and we want to preserve that part of our history. It's also a brand recognized around the world as the global leader in energy regulation," said Chairman Wayne Christian. "Since the Commission is the lead agency in Texas working to ensure safe, responsible production and transportation of our energy resources, this new logo better communicates to Texans exactly who we are, and what we do to serve them." 
The logo is the latest initiative in the RRC's efforts to increase transparency. Earlier this year, the agency launched the RRC Online Inspection Lookup (RRC OIL) found here.  RRC OIL allows anyone to search online inspection and violation data for oil and gas leases, wells, facilities, and other sites. 
The RRC will phase in use of the new logo as new materials are purchased. A copy of the new logo is shown below: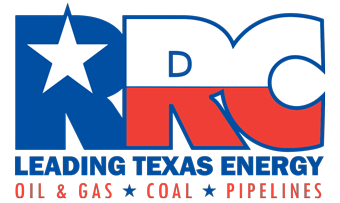 ---
About the Railroad Commission:
Our mission is to serve Texas by our stewardship of natural resources and the environment, our concern for personal and community safety, and our support of enhanced development and economic vitality for the benefit of Texans. The Commission has a long and proud history of service to both Texas and to the nation, including almost 100 years regulating the oil and gas industry. The Commission also has jurisdiction over alternative fuels safety, natural gas utilities, surface mining and intrastate pipelines. Established in 1891, the Railroad Commission of Texas is the oldest regulatory agency in the state. To learn more, please visit https://www.rrc.texas.gov/about-us/.