Numbers Once Again Show Texas Gas Supply Held Strong During Wintry Weather
February 06, 2023
AUSTIN – For the second time this winter, the state's natural gas supply chain was tested and performed as needed to keep heating and lights on for millions and millions of Texans.
Winter Storm Mara swept through Midland, the Dallas-Fort Worth area, and into San Antonio, covering several gas production basins in the state. The key elements of gas supply – production, pipeline transportation and underground storage – all performed up to par during the arctic blast.
Texas' daily onshore gas production, for example, averaged more than 25 billion cubic feet (Bcf) per day from January 31 to February 2. As shown in the chart below, that exceeded the daily average seen during Winter Storm Elliott in late December, and the daily production gas production of all last winter.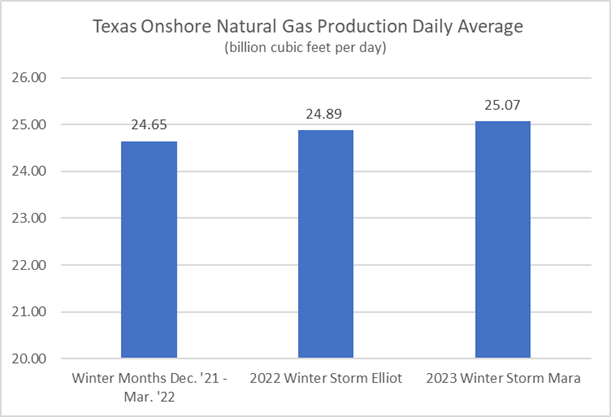 The state's underground storage facilities had an estimated 392.4 billion cubic feet (Bcf) of natural gas as of January 2023. In addition, pipeline operators packed the pipeline system with natural gas ahead of the storm.
All told, there was more than enough gas to meet the demand during Mara. According to data from S&P Global natural gas demand for residential and commercial heating peaked at 4.23 Bcf and demand for electricity generation peaked at an estimated 6.46 Bcf for power generation, both on January 31.
The RRC does not regulate the price of natural gas, but it should be noted that there were no unusual spikes in prices with the cash basis market price averaging below $3 per MMBtu at the Waha trading hub in West Texas during Mara. Market data suggests that price actually declined by $0.60 per MMBtu on February 1 indicating strong supply in the region.
The Commission has been committed to ensuring the delivery of natural gas to protect Texans this winter, and we will continue that work to ensure peace of mind for residents.
---
About the Railroad Commission:
Our mission is to serve Texas by our stewardship of natural resources and the environment, our concern for personal and community safety, and our support of enhanced development and economic vitality for the benefit of Texans. The Commission has a long and proud history of service to both Texas and to the nation, including almost 100 years regulating the oil and gas industry. The Commission also has jurisdiction over alternative fuels safety, natural gas utilities, surface mining and intrastate pipelines. Established in 1891, the Railroad Commission of Texas is the oldest regulatory agency in the state. To learn more, please visit https://www.rrc.texas.gov/about-us/.